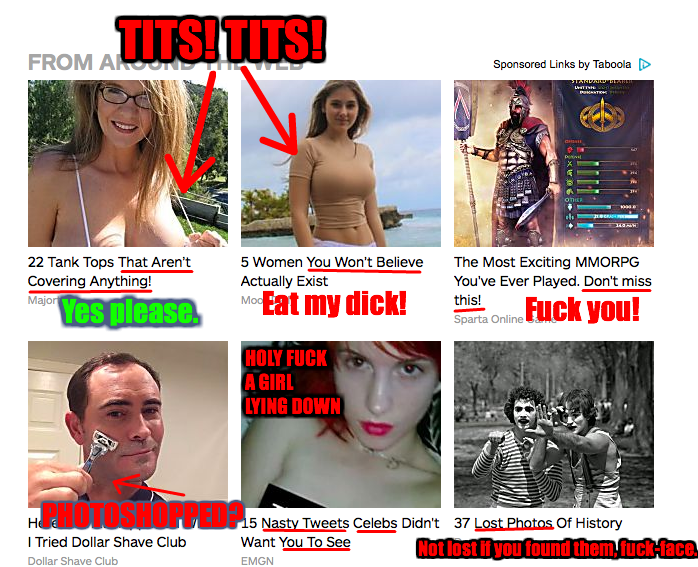 I get sex appeal with ads. It makes sense. Beautiful women sell ads for both men and women. MMORPGs are liked by both lots of men and women.
The "Dollar Shave Club" ad is OK because Dollar Shave Club, and likewise razor subscriptions, are hot right now. Though, the only person I know who shaves without shaving cream is Mac from the 1987 movie "Predator" (played by Bill Duke). The ad links to "try.dollarshaveclub.com" with URL variables that tell the website which ad linked to them and a reference to "greg", "desk", "desktop", and "tab". "Tab" I'm sure refers to the online company "taboola", the author is "Greg", and the browser is a "desktop" browser. Why did I go into so much detail on this ad? ¯\_(ツ)_/¯ (BTW the photo is not photoshopped)
"Nasty Tweets" are also popular thanks to late night TV shows like that one guy who used to fuck Sarah Silverman and is really mad at Matt Damon. But that's all about celeb drama and I particularly don't like celeb drama. Celebrities are usually dumb. I don't like or respect dumb celebrities.
The biggest problem I have with this ad is the "Lost photos of History". If you made an article and posted these photos that were supposedly "lost", then they aren't fucking lost anymore. You dip-shit! They are now recovered.