I can't stand Yahoo news' integrated clickbait ads.
So now that Prince is dead, are we tinting our Facebook/Twitter/Instashitpic avatars purple? Are we sharing pictures of Prince as if we just saw him in concert? Are we suddenly the biggest Prince fan in the universe?
So the other day I was doing research on a problem with a group of Macs freezing up. I found this website where, after ~20 seconds of reading a conversation, this fake chat box pops up.
"Oh hey! How may I help you? I've got a girl avatar and a pretty sounding name so I look legit!"
Bot suspected. Bot confirmed.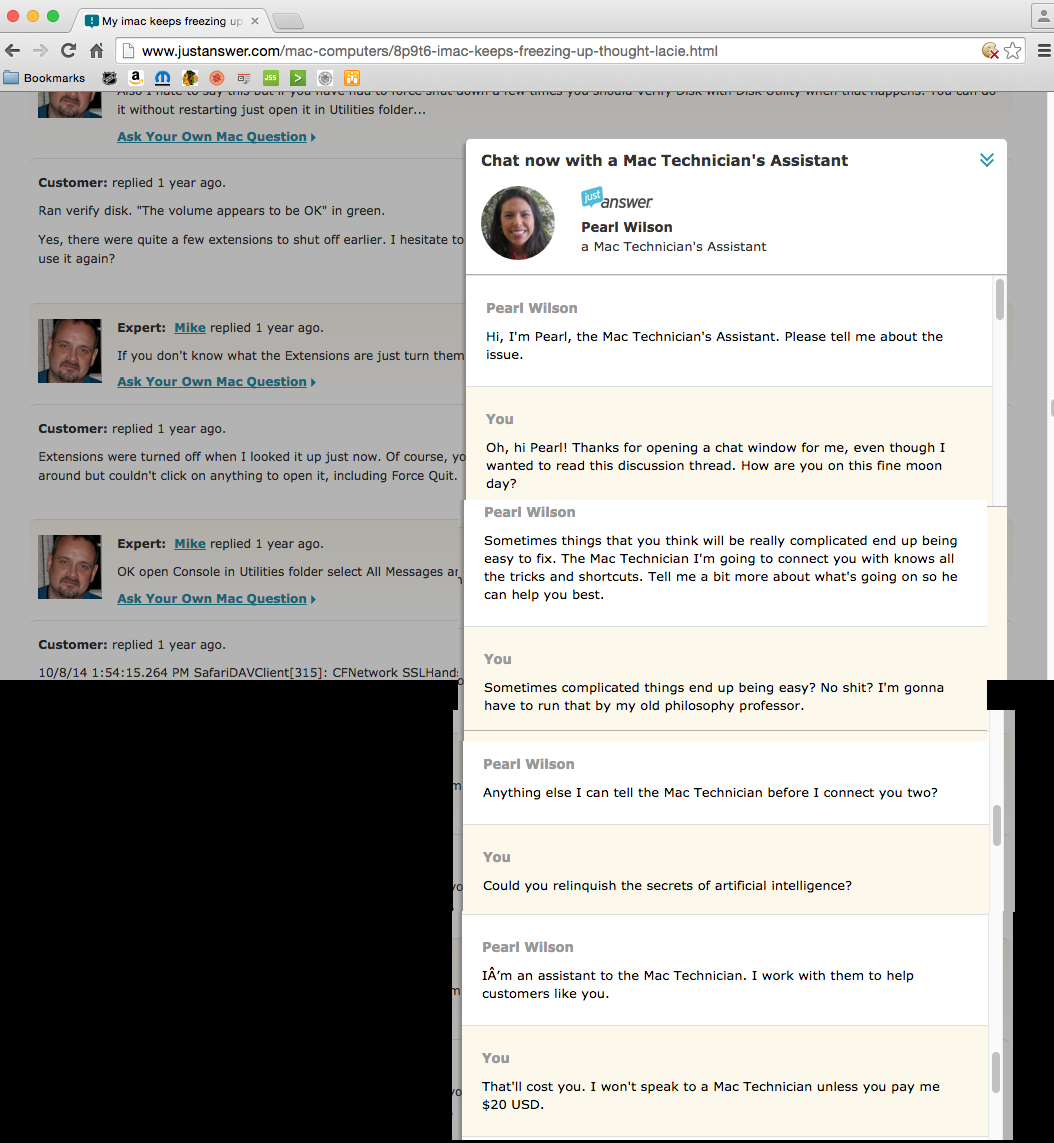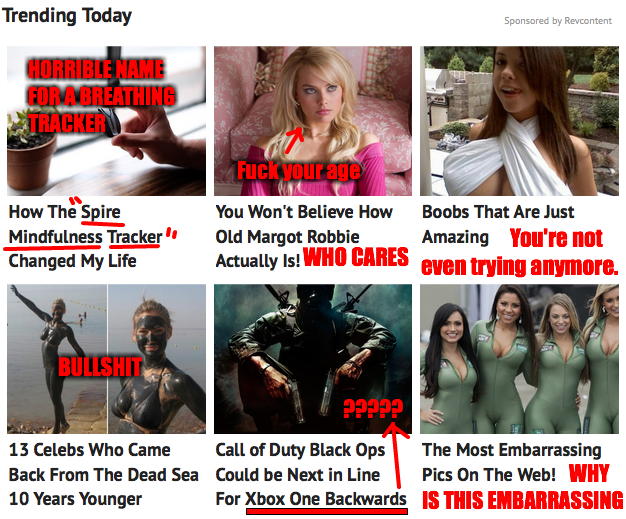 I did a Google search for "Spire Mindfulness Tracker". It's just something you clip to your pants/bra/shirt that monitors your breathing and steps. iOS already can track your movement. MyFitnessPal can track so much more (for free!) and it doesn't require some goofy clip-on gadget.
As of today, Margot Robbie is 25 years old. Does anyone care? No? Moving on.
Hi there. Big fan of tits. They're amazing. But does this belong with a group of ads? Seems unprofessional (as much as it hurts me to say that).
Celebs who "came back 10 years younger"? So… time traveling is a thing now? Oh, oh, you're doing a thing with mud baths and still claiming you can "shave years off of your life" simply by giving skin a good rough scrub.
Oh! Call of Duty! You're hitting your gamer demographic! Too bad you couldn't fit "compatibility" at the end of your sentence. "Xbox One Backwards" isn't a thing.
Look people! Tits and the mention of embarrassment! Quick, click that ad so you can find out what was so embarrassing and maybe see some more cleavage! The foundation of advertising: Tits and embarrassment.
I get sex appeal with ads. It makes sense. Beautiful women sell ads for both men and women. MMORPGs are liked by both lots of men and women.
The "Dollar Shave Club" ad is OK because Dollar Shave Club, and likewise razor subscriptions, are hot right now. Though, the only person I know who shaves without shaving cream is Mac from the 1987 movie "Predator" (played by Bill Duke). The ad links to "try.dollarshaveclub.com" with URL variables that tell the website which ad linked to them and a reference to "greg", "desk", "desktop", and "tab". "Tab" I'm sure refers to the online company "taboola", the author is "Greg", and the browser is a "desktop" browser. Why did I go into so much detail on this ad? ¯\_(ツ)_/¯ (BTW the photo is not photoshopped)
"Nasty Tweets" are also popular thanks to late night TV shows like that one guy who used to fuck Sarah Silverman and is really mad at Matt Damon. But that's all about celeb drama and I particularly don't like celeb drama. Celebrities are usually dumb. I don't like or respect dumb celebrities.
The biggest problem I have with this ad is the "Lost photos of History". If you made an article and posted these photos that were supposedly "lost", then they aren't fucking lost anymore. You dip-shit! They are now recovered.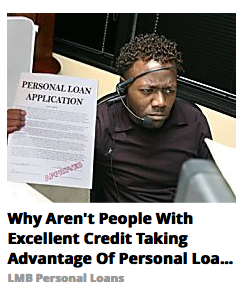 This was captured from the bottom of a pool of generic click-bait ads from pcmag.com. What caught my attention was the few ads surrounding it with pictures of a beautiful woman gasping and clasping at her bikini top with a caption like "You won't believe these news bloopers! LOLOLOL" Then I noticed this disgruntled-looking man and the obviously photoshopped hand-on-application on the left side of the picture. But what made me chuckle to myself was that his headset was resting on his forehead. The look on his face is great. I'm wondering if, whatever is in the lower-right corner is supposed to be a PC monitor.
What ever he's looking at will forever remain a mystery.
There's a lot of forced-sensation being placed on literary suspense these days. Much of that faux suspense comes in the form of the injected phrase "… wait for it…".
This method is often used when a person puts too much emphasis on information that could otherwise be delivered regularly at the end of a sentence. I came across a post about some person leaving their job at Ubisoft where, within the first paragraph, at the end of the 3rd sentence, the author uses the "wait for it" method.
Back in 2005, I remember my boss asking me where I'd see myself in 10 years. I answered without hesitation: I want to be a software architect on a big-ass AAA project! The dream came to life a few years later, when I started working on Assassin's Creed Syndicate as – wait for it – software architect.
Why am I waiting? Who the fuck cares if this person got a software architect job when there was zero emotional investment in their career choice? Here's how I see modern usage of "wait for it" and why it's so fucking bland:
I learned what 3+3 equals today. Wanna know what it is? 3+3=… wait for it…

6
OMFG you literary mastermind of our generation. Please tell me another grand-master fuck head.
You know when "wait for it" is a proper choice in building suspense? Never. That's right. I never want to be told to "wait for it" when you're on the cusp of giving me information I potentially want to hear. If you want to tell a really good story or anecdote, build your own suspense by adding some drama or inserting some emotions or thoughts. Maybe try using a Red Herring or a twist ending.
Fuck…. wait for it… you.
Since the death of my father, my brother Joe and I have broken our pseudo-silence and have become closer again. This is after a few years of him going through his "I'm pissed at absolutely everyone in the world because I don't know how else to cope" mode. The tragedy is it took the reality-shaking death of our father a few months ago to get him to snap out of his internal struggles in order to realize there is, in fact, finality to everything.
Since our father's death we've been emailing each other 3 -10 times a month. It's been therapeutic to say the least. My brother. Whom I helped take care of since I was old enough to understand how to hold a spoon and feed him. Joe. The only person who I can say anything to and have the ability to read precisely what he's saying to me just by looking at his face. His raw body language.
I am a body reader.
You know when a certain holiday rolls around and you're reminded about a favorite food or dish you can't wait to have again? The yearning. The anticipation. Continuing a close relationship with my brother, at this point, is kind of like that. Familiar. Good. Heartwarming. Filling.
Since my brother and I have been talking, my girlfriend and I recently talked about me streaming video games for him so he and I could interact in a more personal way. Something that we used to share when we lived together. I'd play video games and commentate. He'd watch and laugh.
So far he's liking it. The therapy continues.
In some ways I feel like one of those people who do nice things for other people, not because they're benevolent, but because they want that tiny rush they get from getting someone's appraisal. Slightly selfish with a side of selflessness. I also feel like my brother doesn't have a lot of time left. He's getting old as he's approaching 40. That's like "65" in Cerebral Palsy years. His health is also deteriorating as he spends most of his life sedentary, lying on the floor. He rarely gets out. I know he's also in a lot of pain. He's usually hopped up on pain killers when he's not sleeping.
It makes me sad sometimes. But then I think that only bitches would be sad for my brother. Only a bitch would look at his life and feel sorry for him. I love my brother. I don't want to lose him – but I will. I know it.
So I play video games, turn on my camera facing toward me, hit "Begin Stream", and hope I put a smile on his face.
The ability to tell jokes should never come under arrest. One should be able to joke about anything they wish, regardless of who might get offended. They way I see it is this:
A comedian is kind of like a musician. The audience is like a stringed musical instrument. Some sounds come out louder and more clear when the strings have some tension.
To abandon the tension in all of the strings, for fear that someone will get offended, the result would be a poor-sounding song. The comedy would be lost. The art would die.
This is why comedy has to constantly push boundaries – to keep tension in those strings. To keep the art alive. To discover new sounds. And most importantly, to make sure those sounds exist for future generations.
I can't wait to have a kid so I can cash in on those sweet, sweet Facebook "likes".
Sometimes I stop and think to myself "What if I had shouted at my father when he was dying on his hospital bed? What if I said 'Hey! Dad! This is your last chance to wake up and get better! WAKE UP!'". I know that, at the time of his death, and even the night before his death, I knew the absolute truth: My dad's body is fucked up beyond recovery. Cancer. Multiple infections. He's done for. The only task that remains is mercy. So he shall have it and become one with death.
Not even all of the stupid fucking "spiritual" or "energy" stones, my sister brought to his hospital room, could save him. Oh, how I wanted to throw those stupid stones out of his window every time I saw them. I wanted to shake sense into her and her mother. Oh, how I wanted to scream. Of all the wasteful things we do when a loved one is dying. I bet hard that medical advancements would prevail and that my father needed rest, not visitors. The social repercussions is that my brother Pete and I have been branded as "those whom didn't care". They don't understand. It doesn't matter.
Sometimes I feel guilt, in that I should've spent more time with my father in the hospital, but then I keep returning to my remembrance of how messed up he was; how incomprehensible and sporadically responsive or cognitive he was. Such a sad state to see someone who used to represent strength and wit, to become so frail and bewildered.
I don't feel guilty anymore – just occasionally sad and haunted by what I've seen.